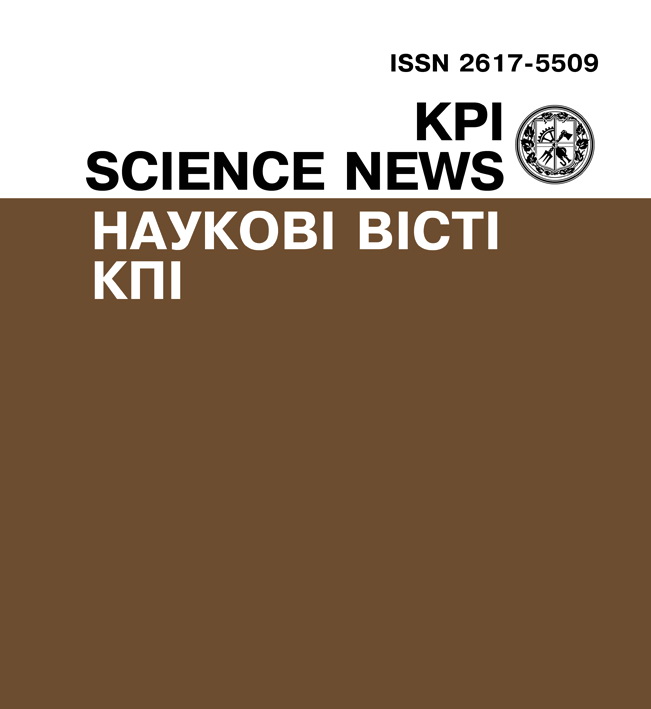 About the Journal
International scientific and technical journal "KPI Science News" (till issue 1-2018 was published under the title "Research Bulletin of the National Technical University of Ukraine "Kyiv Polytechnic Institute", ISSN 1810-0546) was founded in 1997.
Certificate of state registration: КВ № 23144-12984ПР from 07 August 2017.
ISSN 2617-5509 (printed)
ISSN 2663-7472 (electronic)
The journal publishes only the new results of fundamental and applied scientific research on the subjects of the journal, which had not been previously published in other scientific publications in Ukraine or abroad.
The basic categories of scientific papers of the journal are Engineering Methodology; Engineering Methods; Engineering Models; Systems, Processes and Technologies of Systems and Polytechnic Engineering.
Articles on Systems and Polytechnic Engineering background in the KPI Science News journal are published in the areas of basic categories, according to thematic headings of such branches of knowledge as: Mathematics and Statistics, Mechanical Engineering, Electrical Engineering, Information Technology, Automation and Instrument-making, Electronics and Telecommunications, Chemical and Biological Engineering, Production and Technology, Military Sciences, National Security, State Border Security.
According to the order of MES of Ukraine from 28.12.2019 no. 1643 is a specialized journal on technical sciences (specialities - 113, 121, 122, 123, 124, 141, 142, 143, 144, 151, 161, 171, 172).
The journal is included in the following databases: DOAJ, EBSCO, WorldCat, J-Gate, OpenAIRE, Ulrich's Periodicals Directory, BASE, Miar, WCOSJ.
Issue Frequency: 4 times a year.
Full Text Language: Ukrainian, English.
Cite the title as: KPI Sci News.
Publisher: National Technical University of Ukraine "Igor Sikorsky Kyiv Polytechnic Institute".
Address: 03056, Kiev, Peremohy Avenue, 37, building 1, Room 193-b and 259.
E-mail: n.visti@kpi.ua
Tel.: +38(044)204-91-23